Struggling for practical, stand out business card ideas that don't break the bank?
Think of your business card as a tiny promotional powerhouse in your pocket. In the right designer's hands, your business card ideas can take flight and create the perfect first impression with your clients and suppliers. Too many people rely on generic business cards that are just okay. Worse than failing to make a good impression, they make no impression at all. Avoid that fate and look at some of the creative business card ideas we have used at Proactive to make our clients' customers sit up and take notice:
Shaped & Perforated Business Cards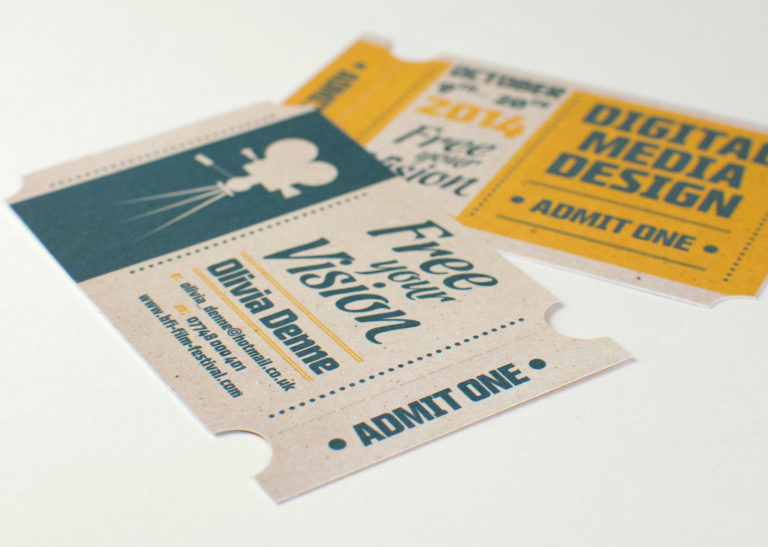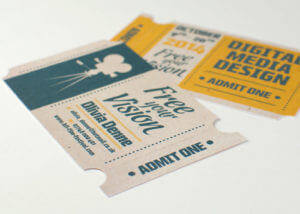 Think beyond the usual rectangle of cardboard and embrace shaped and perforated business cards. We tried it for a student at a local design & media college who wanted her cards to look like movie tickets. To suit her budget without compromising on her business card ideas, we die-cut a simple shape and added a perforated line to one end to look like a ticket stub. We then printed the cards on 300gsm uncoated board, which the client loved and used to promote herself successfully.
Takeaway: Consider your business and how you can use similar techniques to show (rather than tell) clients what you do.
Think outside the box – literally – and use non-rectangular shapes that reflect some aspect of your business. Go circular or oval, and ensure your card fits wallets by including a perforated section that can be torn off.
Folded Business Cards
Your business card does not have to follow the herd and consist of a single, flat piece of cardboard. Folded business cards show you mean business. You can pack a lot more information into the card if it is presented like a tiny book listing your key details, and it also gives you space to highlight your most popular products and services. You'll also have room to Include a glowing testimonial from one of your best customers.
Laser-etched Wooden Business Cards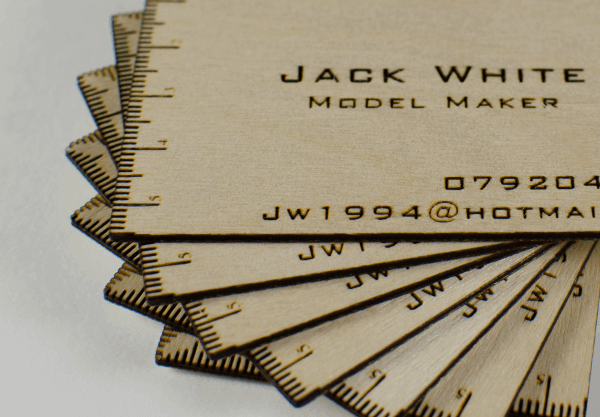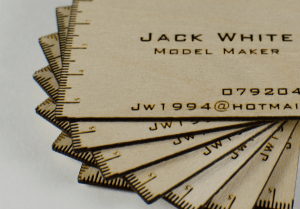 Just as you don't have to stick to a generic shape for your business card, neither are you confined to a generic material. Depending on your area of business, you can think far beyond cardboard. A model maker who worked in a range of materials chose wood for his business cards, creating an impression that cannot be easily crumpled and discarded. His laser-etched birch ply cards also featured a handy ruler.
Takeaway: Be creative when it comes to materials and your business card is unlikely to be forgotten, particularly if you include a useful detail (e.g. a ruler). Capitalise on the durability of your wooden business card by including a perforation so that it can be added to a key ring or a lanyard. That means your business card will linger longer and be remembered.
Duplexed /Triplexed Business Cards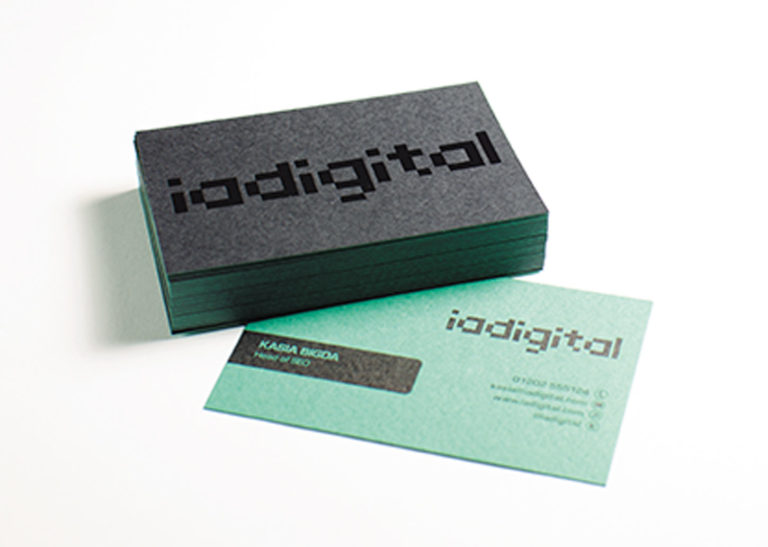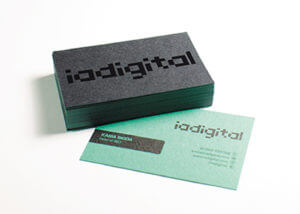 For the ultimate impression of premium quality, it's hard to beat a duplexed business card. Comprising two sheets of card pasted together, duplexed business cards allow you to make a heavy impression on both sides without any show through.
Our client Greenwood Campbell was particularly pleased with the results when we duplexed their cards to a hefty 445gsm and delivered them in both red and blue colour schemes. We used a clear foil for the logo to allow the colour of the board to come through while retaining the powerful effect of a foil impression. (Clear foil gives the same effect as spot UV on uncoated boards). Both colour schemes were matched on the printed side with appropriate Pantone colours.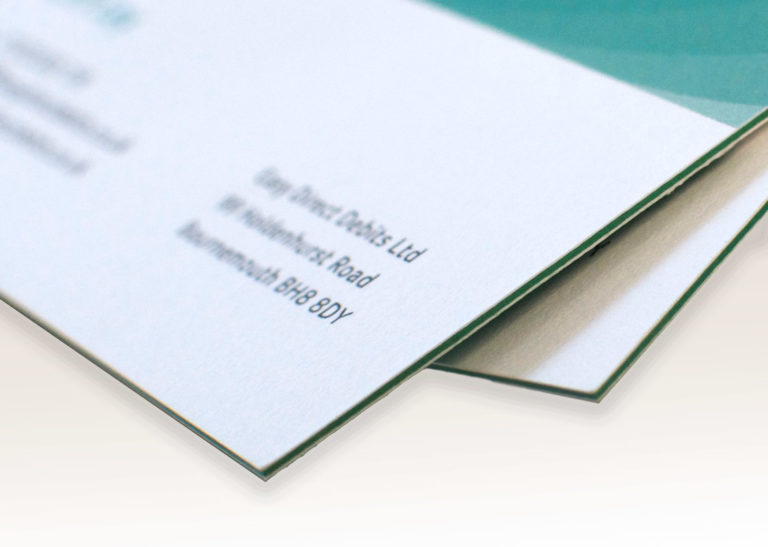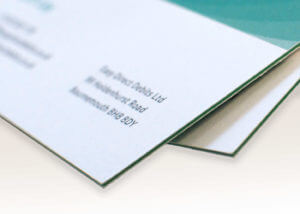 Our client iadigital Ltd also chose duplexed business cards. They dropped in to discuss their business card ideas, leafing through a selection of paper samples before opting for a total card weight of 350gsm. They did not want a very heavy card, so this weight suited them perfectly. A black foil logo created the ultimate finish.
When our sister company Easy Direct Debits needed cards in time for a conference, we had just enough time to produce these super-thick, 600gsm, triplex business cards. You can see how the white outer layers sandwich a thicker green core. They look – and feel – fantastic, and never fail to elicit a compliment from anyone who receives one. Best of all, they didn't break the bank!
Takeaway: Duplexing / triplexing gives you a wider choice when it comes to the weight and finish of your card. Consider it when you want to make a big impact and a lasting impression.
Spot UV (Gloss Highlight) Business Cards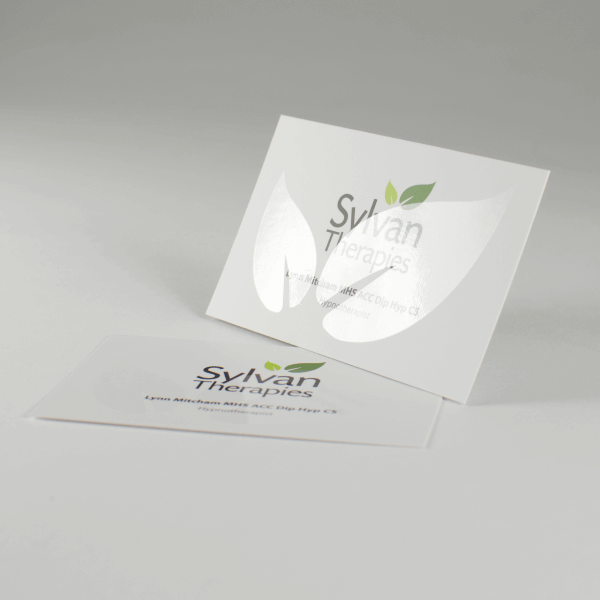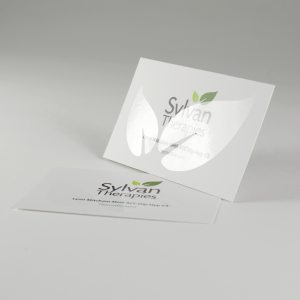 One of the most cost-effective ways to enhance your business card is to use a gloss highlight to bring out a detail or to even create a subtle texture on the surface of your card. Create instant wow factor at fraction of the cost of many other techniques.
Spot UV can look amazing, but you'll be wasting your money if you don't use it properly: We discourage customers from simply highlighting text or logos with spot UV; it increases the chances of misalignment over the top of your printed item and, in some cases (especially if used over white),becomes almost undetectable. Instead, use a design that will cover the whole of your card or stretch from one edge to another and use an element of your logo that can be enlarged or repeated across the surface. You'll get a glossier finish and a more interesting final design.
Takeaway: Spot UV is incredibly versatile and can be used for a wide range of business card ideas. Repeating a pattern in spot UV, can give an awesome finish to the card and also create a tactile texture which customers will love to touch.
Embossed Business Cards
Sounds expensive right? Not necessarily. We have a range of embossed cards that won't break the bank. Embossing is an historic printing technique used to add opulence and grandeur to a printed item, so it makes perfect sense to use on your business cards if you're hoping to make a great first impression.
Similar to spot UV, you need to think about the way embossing can be incorporated for best effect. Some of the most effective samples we have seen have highlighted a pattern or design with embossing, instead of just using it to reinforce a logo or text.
Embossing works really well on flat colour surfaces where you just want to use the design to create light and shadow.
Takeaway: Get super slick embossing results by going minimal. Use the embossing rather than the print to make your cards the best they can be.
These business card ideas should give you some inspiration for your own perfect pocket-sized promotional tool. Have you been inspired by these cards? or do you have some amazing cards of your own? Feeling inspired and want to send us a design brief? We'd love to hear from you.