Our client's head of marketing originally got in touch after a recommendation from a new member of staff who had worked with us on another project before joining the company.
We started by producing their business cards to the same specification they had used with a previous supplier.
Original specification
85 x 55mm
540gsm Duplexed Flint (Grey) & Nero (Black)
Black foil blocking on side A and Grey foil blocking on side B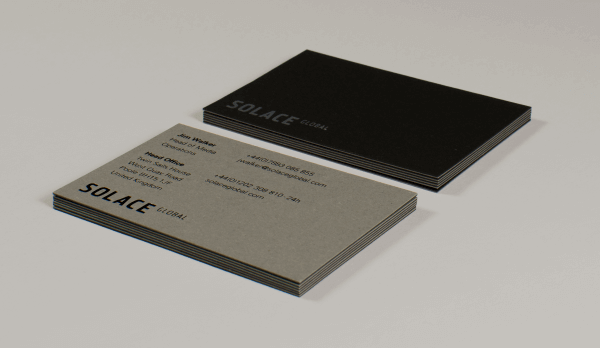 After the initial print run, they challenged us to come up with options for a more economical business card with the aim of keeping the deluxe versions for senior staff and the new cards for the other members of staff.
The client was particularly keen to keep the look and feel the same, especially the thickness of the cards. We discussed the options of duplexing the Flint and Nero boards but only using grey foil on side B and printing in black on side A. From here, we agreed that although the foiling on the cards has a great professional look the set up costs were too high to justify foiling their logo only.
We mutually decided to continue using a duplexed card but to use two 270gsm Flint (Grey) boards duplexed together and then litho print in one spot colour of black.
New specification
85 x 55mm
540gsm Duplexed Flint (2 x 270gsm)
Printed in one colour – black (lithographic)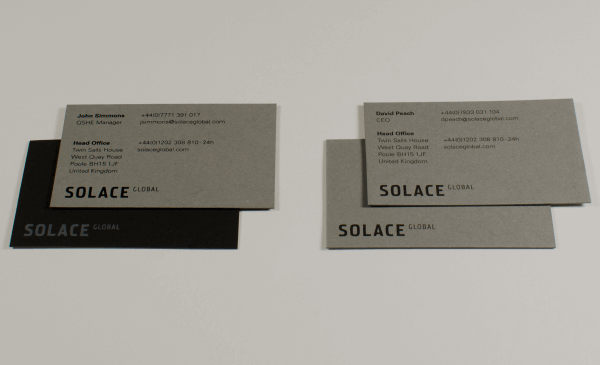 This simple spec change has made production more economical and saved the organisation up to half the cost of their old business cards. We are now working with the company to develop a generic presentation folder which will feature personalised inserts tailored towards an individual client.
As you can see from the images, the results are fantastic and the client is extremely pleased with the outcome!