Super easy design agency support services
You need a trusted print partner and we're the guys to make it happen. Direct marketing, extra studio help, we're 'On-Call' and ready! We support design agencies and freelancers with bolt-on print and design – when you need it most!
Trust
It's the cornerstone of our relationship with the freelancers and design agencies we work with.
Not just trust that we'll be invisible as far as your clients are concerned, but trust that you can put your relationship in our hands.
Trust that we'll give you good advice. And sometimes that means steering you away from a certain path that might be better for us both in the short-term, but not in the long-term.
It's an tricky task, finding a new supplier partner by looking at websites. Nobody ever told you their production values were shoddy, that they often missed deadlines or that when things start to go wrong they scamper for the shadows like rats in the night – but those suppliers are out there… with half-decent websites and stock photos of smiley receptionists.
So how are you supposed to know the difference between the people you can rely on and the charlatans?
Well, don't take anyone at face value. Sure, we build relationships on trust – but that trust is earned.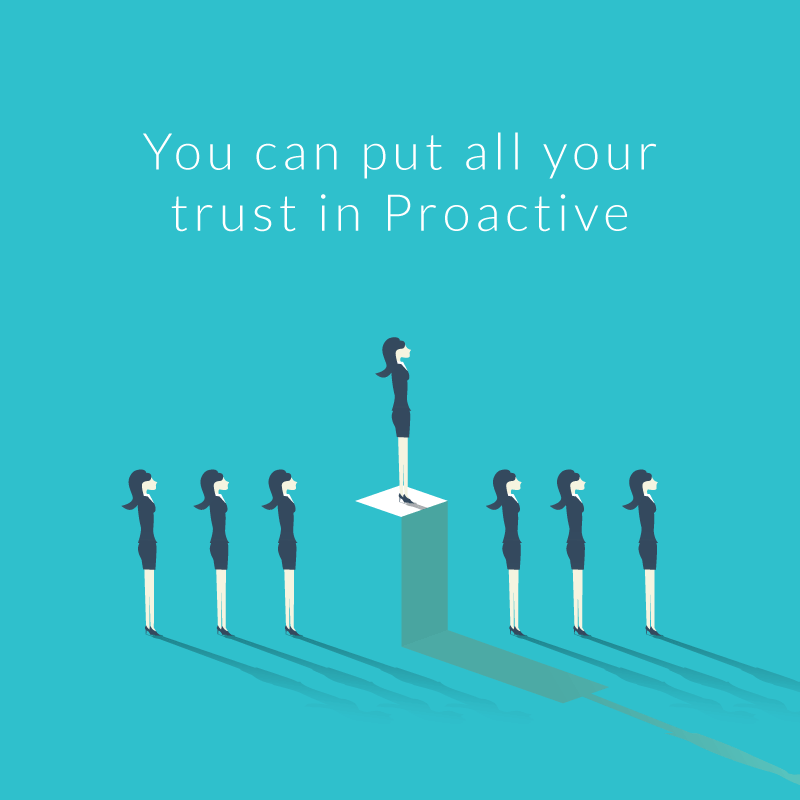 Reviews
We collect reviews online in two places: Google and FreeIndex. The reviews you see there are unedited, third party reviews from design agencies we've completed work for.
For obvious reasons, we can't publish reviews or case studies for the agency work we've completed – but if you'd like to see comments from any design agency client, let us know. We can forward some of their comments (and we have permission from those clients, of course).
When we asked those clients why they chose (and continue to use) our design agency support services, here's what they said:
"We use proactive on a weekly basis and never have to worry about quality as it is always perfect. The service from Amy and Josh is always great – asking additional questions to ensure what we receive is what we are envisioning. They are always my first choice for our printing needs"
Jodi Beard, Jive Hippo
"We have used Proactive on numerous occasions for our design, printing and mailing needs. I have always found them to be extremely helpful and very prompt even when faced with tight deadlines. Their quality is exceptional and cannot find fault with any aspect of their work. We will definately continue to use Proactive for future publications"
Wiltshire Pension Fund
"We have used Proactive to fulfil all our print requirements over the last 5 years. Service (including file checking) and quality has been consistently outstanding. They also managed to get a last minute order checked, printed and shipped to a conference in Ireland at 3 days notice. Thoroughly recommended"
Net Business
Let Proactive take the strain – design agency support when you need it most!