12pp z fold leaflet printing and design for Improve International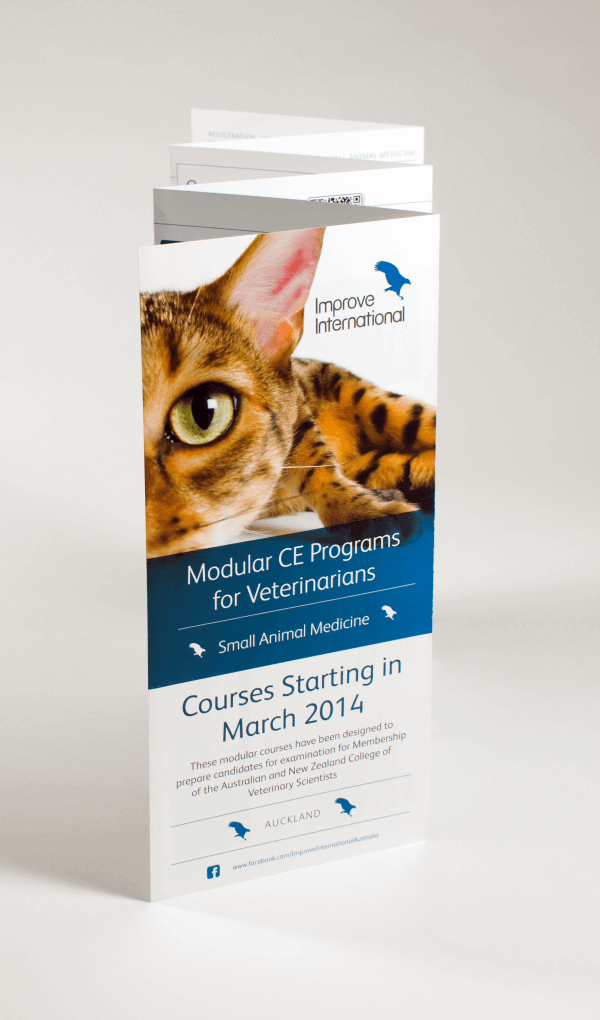 We've been working with Improve International for over 5 years, so when they recently branched out into the Southern hemisphere and decided to target a new market in Australia and New Zealand we were their first port of call for designing a new veterinary CPD brochure and organising the printing of the document for them.
Pictured is a 12pp DL folded brochure that we recently completed for them. The client needed a document that they could post to all their prospects but need to keep the format to a minimum and keep the costs as keen as possible. We designed a "Z" folded (concertina) brochure that would illustrate the courses they offered and gave the reader quick access to the dates and costs of al the veterinary training courses on offer.
This z fold leaflet printing example has a flat size of 210mm x 594mm and a folded size of 210mm x 99mm. We printed these in CMYK, lithographically on 150gsm matt artboard.
We are particular proud of this little gem and it is just a small part of the campaign we developed for Improve International to launch their new business venture overseas.
If you need a bespoke printing project managed and completed, on time and with meticulous attention to detail then please give us a call on 01202 315 333 and we'll do everything we can to make your project a success too.