"We need a scratch card design that will bring customers to our website"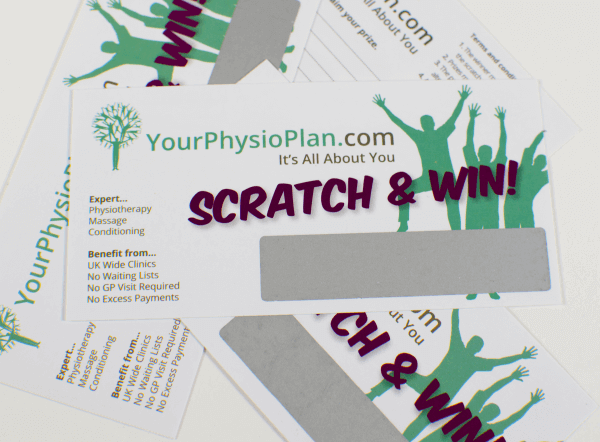 Our client required a promotional item for a corporate event they were attending. Time was short, and budget was specific. Designing a scratch card game seemed a viable option for speed and effectiveness, so we set to work.
The scratch cards were required as a way to drive traffic to their website on the day, and to their website after the event. A YourPhysioPlan.com membership allows you to take control of your health and wellbeing. Andy Curtis, co-founder of YourPhysioPlan.com and physio to professional sportsman says, "Your body is mechanical and if you want to get a lot of mileage out of it you have to invest in it. Waiting until your body breaks down can mean you require an intense and possibly costly course of treatment. Having a membership means you can have regular contact with an expert physio near you to help prevent injuries occurring and enable you to get the best out of your body".
Design time
We explained how our scratch card products worked and agreed on a formula for the prize structure. We took a design brief and obtained their brand guidelines and logo. Then our design studio got to work!
Taking the elements and colours from their logo, we came up with a scratch card design that fitted their brand whilst conveying all the information they'd requested and enticing the 'player' to engage with the game. We also discussed data capture for the reverse of the cards. As well as driving traffic wherever needed, scratch cards are a great opportunity to build up a database of potential customers; collecting names, email addresses, telephone numbers etc.
Once proofs were signed off, we went to print and the cards were ready to collect just 4 working days later.
The event was a huge success and the scratch cards were the perfect promotional tool for this event.
Here's what they had to say…
"All of the guys at Proactive were really professional and helpful. When I contacted them to put together some ideas for a scratch card promotion we were running in partnership with New Balance at the Vitality British 10km run, they were not short on ideas. After some discussion we had our design finalised and the cards produced really efficiently. At the event the scratch cards created a real buzz, and allowed us to interact with our target market in a fun and creative way. I would recommend this type of advertising to all businesses and I would highly recommend Josh and the team and proactive. We will be using them again that's for sure!"
If you're thinking about designing a scratch card or require a scratch card design creating for your event, business or society, then you should definitely get in touch with the team here at Proactive.
We can help you with scratch card design and printing
We have printed millions of scratch cards over the last decade so I can promise you we are the experts when it comes to scratch card printing and design too!
Request samples below to see the quality and range of scratch cards we can provide, and as always get in touch if you need advice or help with your scratch card project.
One last thing….
You might also be interested in our FREE Download Quick Start Guide to printing scratch cards – It's a really useful guide to help you quickly determine whether you can use our standard range of cards or need a bespoke scratch card solution.