Promotional printing for Mycronic
Increase awareness of your company brand with promotional printing.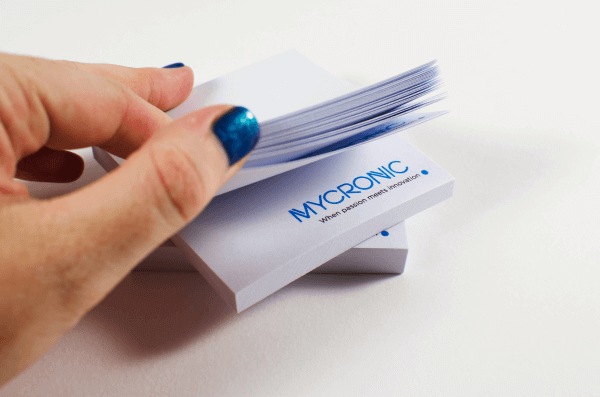 According to the British Promotional Merchandise Association (BMPA) research, 84% percent of people believe that branded promotional printing will increase the awareness of a company's brand.
The Proactive office is home to some interesting branded items from many other companies, including around 36 ballpoint pens, a cupboard full of mugs, 3 mouse mats, 2 drinks mats, 3 notepads, 2 year diaries, 2 USB sticks, 3 desktop calendars, 4 phone holders, 1 sweet tin, 2 stress toys (both on Louis' desk!) and a branded pen pot in the shape of a wheelie bin.
Okay, I will admit we are a bit more prone to collecting these than the average office but look around you right now – how many promotional items are on yours or your neighbour's desk? Would the company spring to mind if you needed a service they have to offer? They've invested in promotional printing, could it make a difference to your business
Promotional printing can make a difference
One of our clients, Mycronic, recently went through a re-brand and whilst we were creating an order for some C5 envelopes and A5 notepads, they began to think about the (almost) endless possibilities of promotional printing and how they could offer something a bit different to people at conferences and events.
Mycronic understood that with the higher value products and services they offer, cheaper and lower quality items would not be appropriate for their market. We sent our client to our online catalogue where they were able to look at the range of items available and narrow the selection of suitable products down. We sent several different samples of metallic ballpoint pens and phone holders with the client eventually selecting their favourites within the two categories.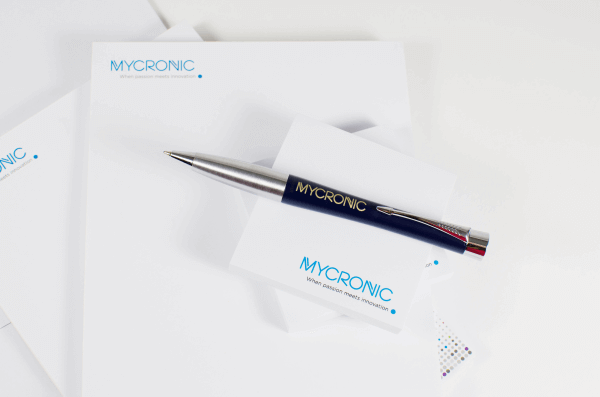 From there our studio handled the artwork, putting the logo into a print-ready format to be laser etched onto the pens. With client supplied images and logos held on file, we put together the artwork for the phone holders so that they matched the branding of the other projects we have worked on. Using client feedback in the proof stages, we tweaked the design several times until it matched their initial 'vision'.
The items were printed and delivered within 10 working days and the client was delighted with the results. We are now working on branded bags to contain all the goodies!