We recently completed a bespoke scratch card job for a new client. They are a chain of breakfast cafes and have a new location opening soon. They were looking for a fun way to advertise the new restaurant to clients at their current locations. They planned to give the scratch cards to customers with their bills.
The client had a specific size in mind for the cards – somewhere between A6 and A7, and we were able to give them a quote for this. As this was the first time that the client had designed artwork for scratch cards, we guided them through the process of setting up the artwork files. Underneath the scratch panel, the initial artwork had a bright orange colour with black text. We advised the client that to reduce the risk of this showing through the latex, we would recommend that the colour be reduced by 50% to make it paler. In the end they decided to change the orange to a pale grey, which solved this problem.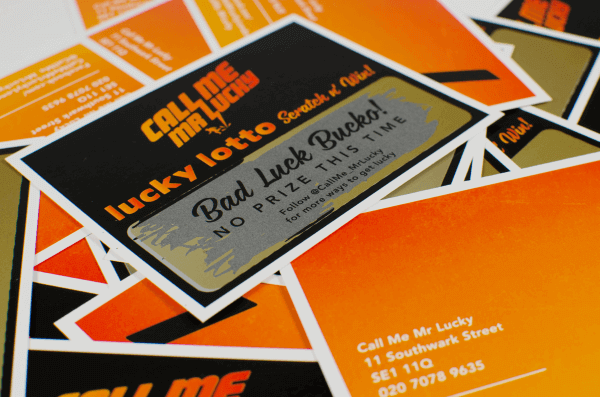 The client wanted to have the silver latex scratch panels overprinted with a gold colour. Our production team came up with three tones / shades of gold, including one that had a gradual increase in shade from left to right. This is the one that the client ultimately chose. We advised the client that as the overprint had silver latex as its base, the final product would not be as bright as the proof seemed on the computer screen.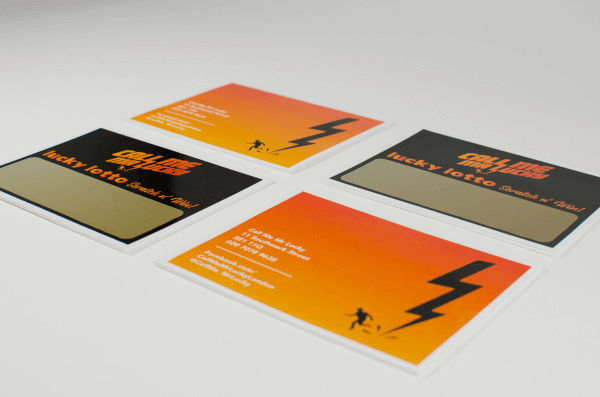 We had a short turnaround time in which to get the cards to the client in time to promote their opening. We were able to get the cards printed and delivered, so that they arrived in plenty of time and the campaign was a great success!
Do you have an event or promotion that would be enhanced by using scratch cards as part of your marketing strategy? Give us a call to find out how we can help you.