Halloween inspired scratch card campaigns
We're often asked to create festive themed Scratch Cards for our clients. Previously one client wanted to tap into the excitement and build up around halloween.
This client came to us with only this very basic idea and asked us to create a scratch card game format as well as design the artwork for it. We weren't at all spooked by the job and decided a 'scratch and match' game would work best for the client. The design studio created a Halloween themed scratch card with creepy icons, under each latex panel were scary symbols that matched to a specific cash value.
The card format was based on our 'Super' scratch card range (this is a 135mm x 97mm, 240gsm, full colour, matt laminated front with single colour uncoated reverse) The end result is an eye-catching and engaging product that the client was able to use to promote their business effectively.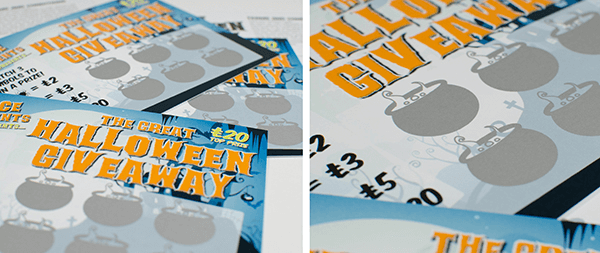 How can you make the most of an upcoming national holiday or festive occasion in your marketing plan?
Well, most importantly, begin your planning early. Scratch cards take a minimum of 7 working days for our standard ranges (Regular and Super). So, get your calendar out and start planning now. There is nothing worse than having an amazing promotion idea for Valentine's Day… that you only think of on February 12th.
Create a time-limited offer to encourage your clients to take part right away.
Use different mediums for your promotion. For example, if you are planning to give Scratch Cards to each customer, make sure that they know about it in advance, by displaying posters or banners and announcing the promotion across your social media sites. Download our FREE guide to learn more about how to promote your business with scratch cards.
Do you have any marketing that you would like to coincide with the next national holiday – why not incorporate scratch cards into your campaign? Give Proactive a call today and we'll explain how we can help you make a creative impact.