Standing proud with embossed business cards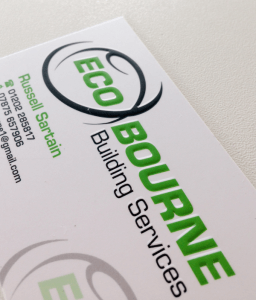 Eco Bourne, wanted a product that they could hand out to their customers at a specialist eco exhibition. They wanted a card that would stand out and embody their company ethos, so we recommended embossed business cards as a suitable product.
Our embossed business cards are fantastic value, they are printed lithographically on 400gsm silk art board and matt-laminated both sides and then embossed.
We re-created their logo and gave it a professional look, providing a range of concepts for them to choose from, ensuring that it would reproduce correctly when embossed and printed. We designed an new layout for the cards and created a large format banner in the same style.
Embossed business cards delivered in less than 5 working days
The cards were printed and delivered earlier than scheduled which gave Eco Bourne plenty of time to distribute their cards to their trade peers at the exhibition. We've printed embossed business cards for several customers and have other examples of products where embossing has worked effectively to help the customers product stand out against their competitors.
Eco Bourne made the right decision when choosing an embossed business card. We also provide embossed postcards in this specification was well as non laminated silk products and also a really smooth uncoated paper stock.
If you'd like to talk through your ideas for embossed business cards or see samples of embossed postcards or any other embossed product, please use the links below and get in touch, alternatively call 0800 513 5333.