The whole of the Proactive team get involved in this years christmas card printing project
Christmas card printing, Done!
Christmas has finally hit us head on in the Proactive Office.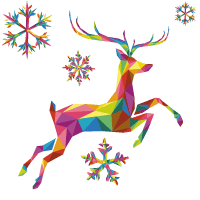 Our Christmas greetings cards are designed, printed, signed and mailed. Lights are flashing merrily in the windows and our little Christmas tree is sparkling proudly in the corner.
Sausage rolls, lemon drizzle and flap jacks are baked and looking handsome in the kitchen and our pre-party booze fund is looking healthy.
We'd like to wish you a very Happy Christmas and if you were not fortunate enough to receive a Christmas card from us we thought you might want to take a look at this years design as we're particularly proud of this one.
Every year we rack our brains thinking about what to do for our christmas marketing – this year was no exception and we all put some time into writing 3 of our favourite festive things (I'll list those at the end of the blog post) to add to the inside and we collectively came up with a few suggestions to wow our customers, here's how that thought process went…
Make them laugh, make it memorable, make it technical, make it creative!
Christmas Card Printing
Letterpress printing was one option, we'd seen some fantastic designs but this was not going to be 'wow' enough and wasn't using enough of our creative muscle to justify the cost. One of our suppliers had sent us some mirror board samples with CMYK printed over the top – Gorgeous! The colours instantly 'pop' and look metallic giving the impression of multi-coloured foil – this was the finish we decided work with…
So, we set about creating our master piece with a quick trip to hobby craft for some rubber stamps…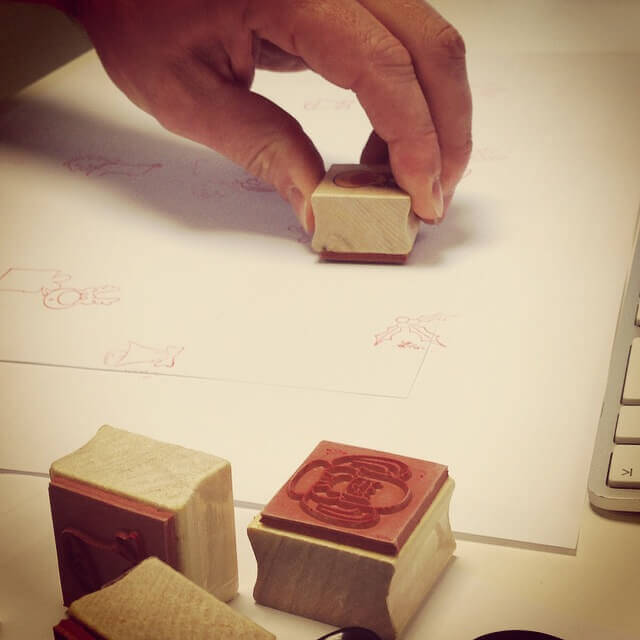 It's not our usual style to use a stock image for such a personal item, but we needed something quickly (who has time these days to design their own Christmas Card?) that we could tile and make a repeating pattern, so we used Fotolia to source our image.
Setting up the artwork was a little technical as we needed to create a white spot layer with the colour elements cut out as well as a separate colour layer which would be printed on top – I've tried to illustrate (below) how the layers stack on top of one another when the card is being printed.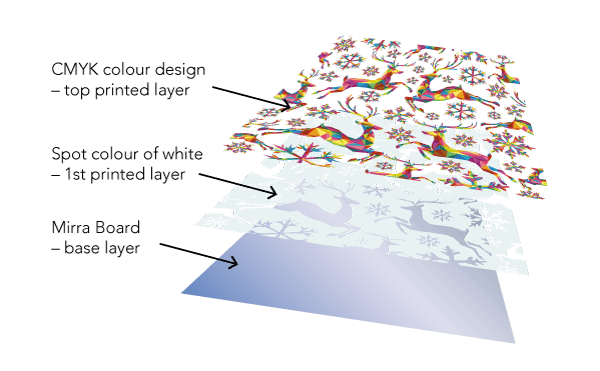 With the design completed, we sent them to print and waited patiently for the cards to arrive – Big cheesy smiles all round when they turned up…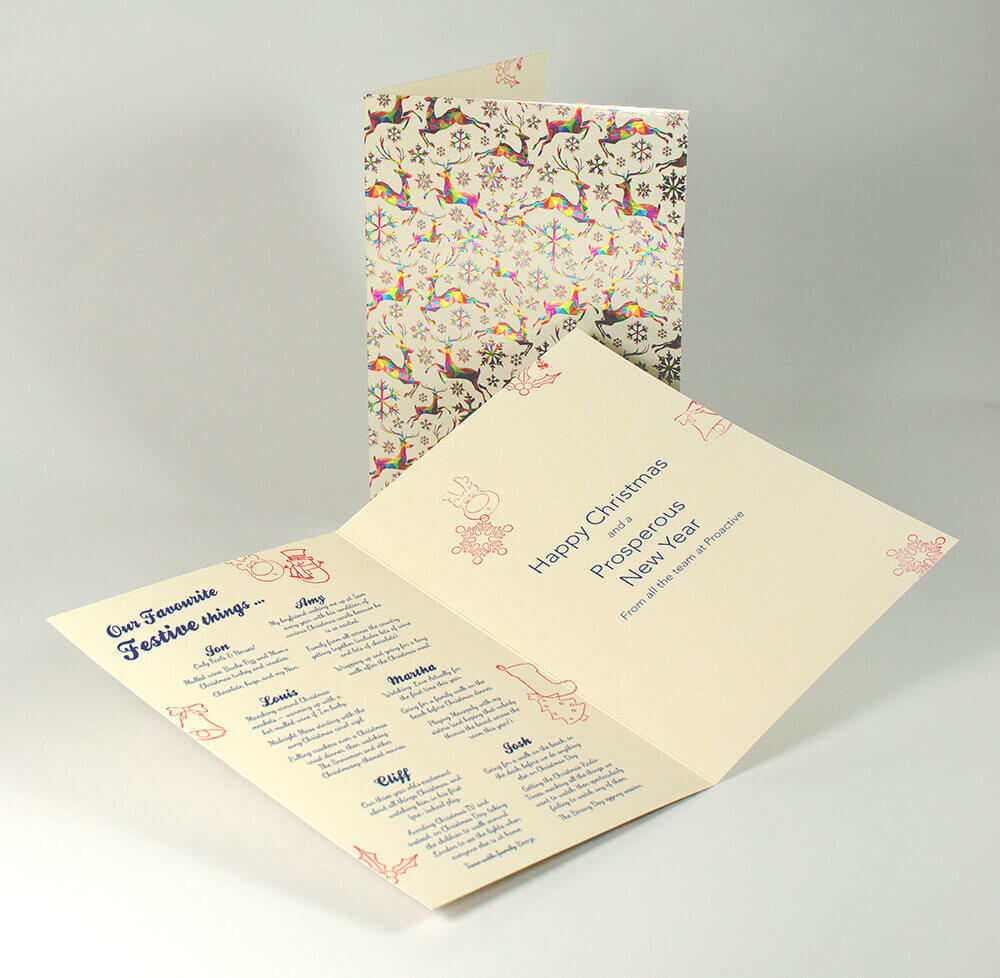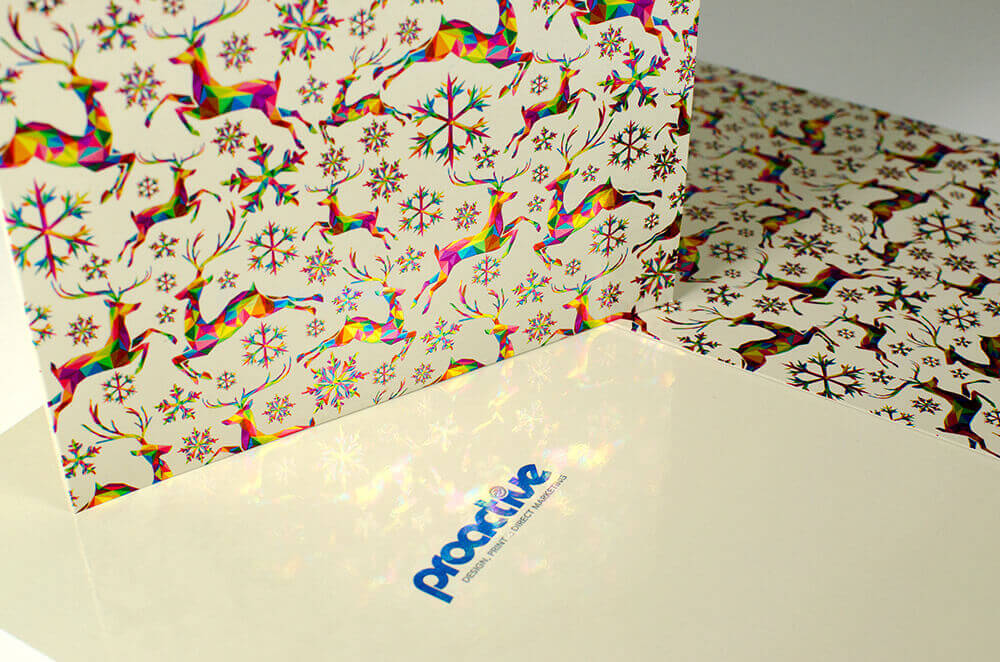 Now to the hard work of signing each card individually…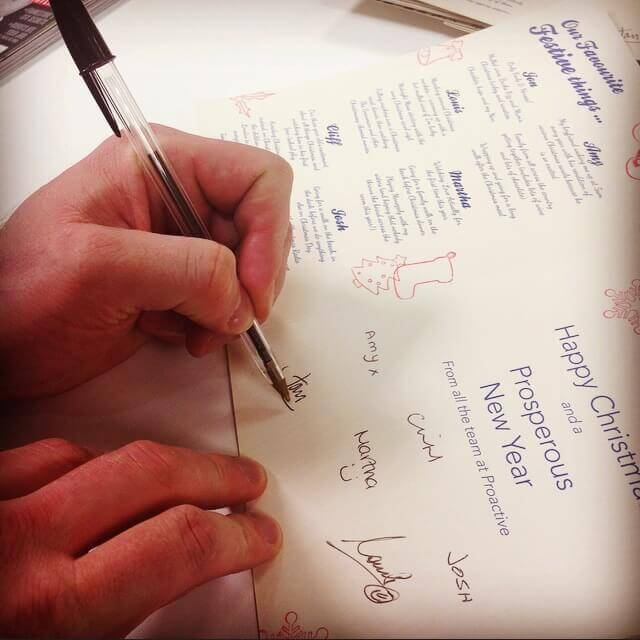 Stuffing and licking the envelopes (don't worry, we didn't make Josh lick them all)…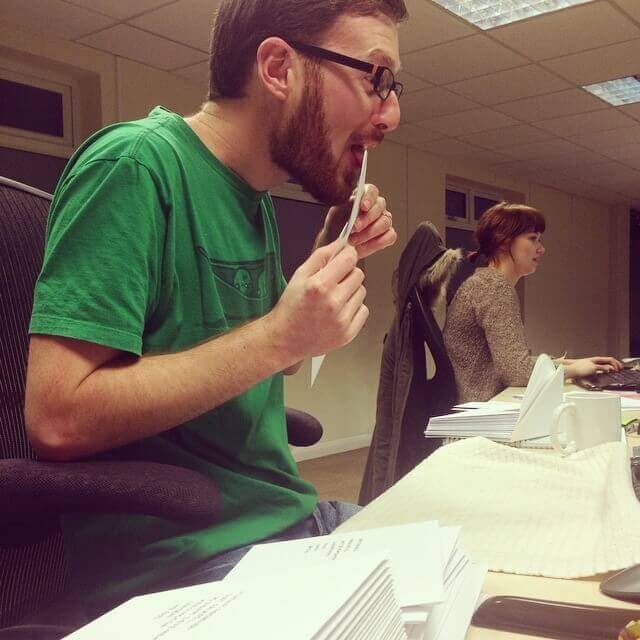 And finally, we franked and posted them… Christmas card printing, Done!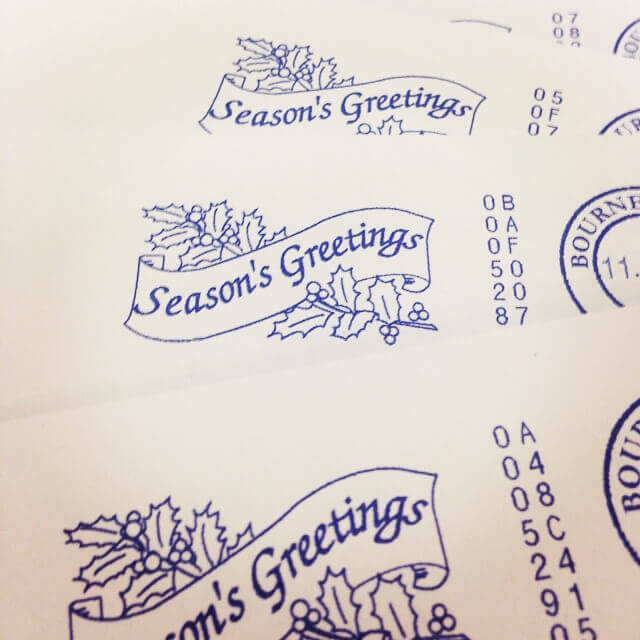 As promised here are few of our favourite Christmas things, we hope you have wonderful Christmas holiday and if you've been inspired with what we do then we'd love to hear from you in 2015… oh my goodness 2015, really?!
Just for fun: A few of our favourite festive things…
Jon
Only Fools & Horses!
Mulled wine, Bucks Fizz and Mum's Christmas turkey and roasties.
Chocolate, hugs, and my Nan.
Amy
My boyfriend waking me up at 5am every year with his rendition of various Christmas carols because he is so excited.
Family from all across the country getting together (includes lots of wine and lots of chocolate).
Wrapping up and going for a long walk after the Christmas meal.
Louis
Mooching around Christmas markets – warming up with a hot mulled wine if I'm lucky.
Midnight Mass starting with the sung Christmas carol vigil.
Pulling crackers over a Christmas roast dinner, then watching The Snowman and other Christmassy-themed movies.
Martha
Watching 'Love Actually' for the first time this year.
Going for a family walk on the beach before Christmas dinner.
Playing Monopoly with my sisters (and hoping that nobody throws the board across the room this year!).
Cliff
Our three year old's excitement about all things Christmas, and watching him in his first (pre-) school play.
Avoiding Christmas TV and instead, on Christmas Day, taking the children to walk around London to see the lights when everyone else is at home.
Time with family Booze.
Josh
Going for a walk on the beach, in the dark, before we do anything else on Christmas Day.
Getting the Christmas Radio Times, marking all the things we want to watch, then spectacularly failing to watch any of them.
The Boxing Day eggnog session.
Happy Christmas!
If you would like help with Christmas card printing or designing Christmas cards or greetings cards – please get in touch by calling 0800 412 5333 or use the buttons below