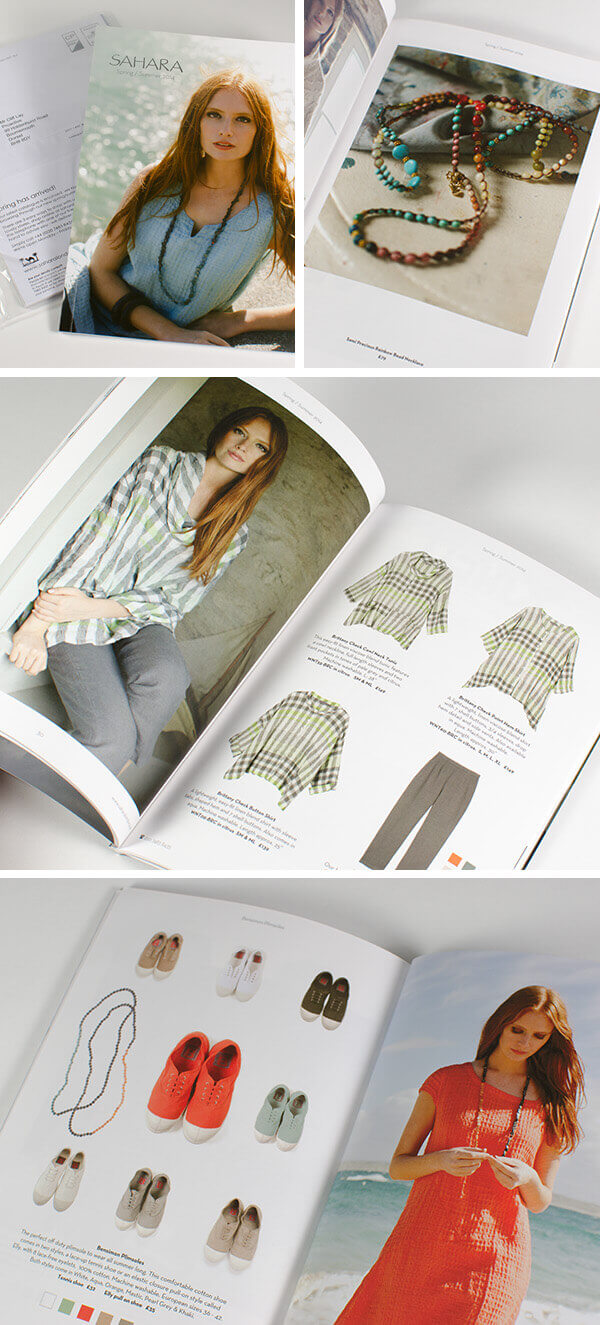 We print catalogues for a lot of customers and we've just completed the Spring/Summer 2014 catalogue for our longest standing client www.saharalondon.com and couldn't wait to show you.
We always work directly with Sahara in-house, taking our designers to their premises in Primrose Hill, London to complete the catalogue design stage.
For the first time we were able to leave our Macs at home and use Sahara's own studio iMacs to make this edition which made a welcome change from carting our equipment from Bournemouth to London.
This seasons book is an A5 64pp, full colour + 1 spot colour, with a perfect bound spine. With a few long days of hard work we produced this stunning catalogue. Our client is very capable with all the creative suite software, so we work simultaneously adjusting images and tackling different layouts together, working side by side, running two macs which makes for a streamlined workflow and efficient production method.
Our client also chooses to be present during the catalogue printing and works along side the printing press operators to ensure perfect colour reproduction during the press pass of the catalogue. This is a service that we do offer to our customers when colour reproduction is a critical factor. There are always limitations when it comes to colour accuracy, especially when using matt or uncoated artboards, so a press pass at the catalogue printing stage can help the client to best realise the colours they need to match too.
Proactive also manage the fulfilment and direct mail for all of Sahara's catalogues and sale marketing. This summer edition of the catalogue was enclosed with a simple printed carrier sheet with a message section and then sealed in a poly wrap.
Due to the quantity of catalogues being mailed and the variety of postal services available to us, the catalogue was delivered on the day the client requested and with a significant saving on postage costs.
We absolutely love working with this client and have the kind of drop everything relationship that keeps them happy and one of our most cherished customers.
For information on any of catalogue printing, design or direct mail services give us a call on 01202 315333 – we might be able to help you save a considerable sum on your next direct mail project too.
Read more about our direct marketing services.