Add special print finishes and give instant wow to your print.
How do you make your print design, stand out from all the other awesome designs out there? Well, perhaps you could consider special print finishes to create an amazing impact.
Adding an unusual finish will help to make your marketing materials stand out from your competitors.
Here are a few special print finishes you could try next time you want to add a touch of quality to yours or your customers' artwork.
Laminating:

Lamination involves applying a thin film of plastic to paper. This will provide protection for the ink, improve the look of the finished project, and increase the durability. Paper can receive either a Matt laminate or a Gloss laminate, depending on the desired end result. Matt lamination can project a sophisticated image and Gloss lamination is an excellent way to call attention to the design and colours by adding an extreme shine.
 Spot UV / Spot gloss highlights: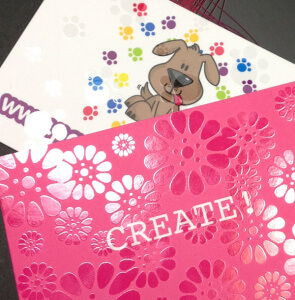 Finishing your brochures, business cards and flyers, with Spot UV, results in a striking first impression. Spot UV involves applying a varnish to a specific area of the design i.e. the logo or the text to make it stand out and catch the light. Again, Spot UV can be applied in a Matt varnish, a Gloss varnish or even a Glitter varnish! Gloss Spot UV is however, the most widely used. Spot UV finishes are best used in combination with a laminate. For example, Gloss Spot UV over a Matt laminate. This results in the ultimate matt/gloss contrast.
Foiling: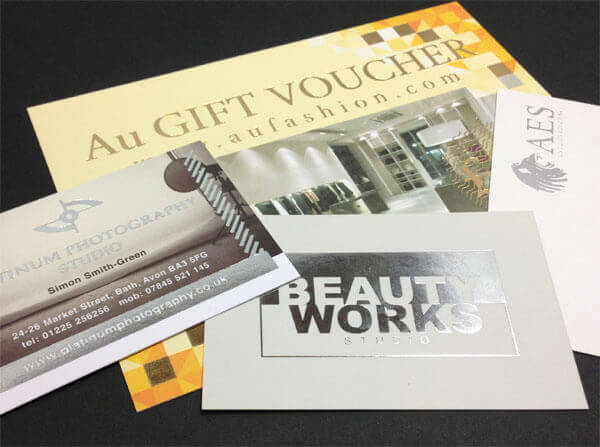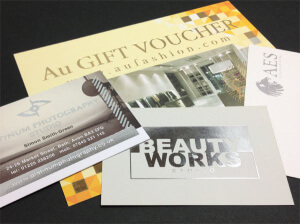 Foiling requires a speciality printing press, which stamps a foil film onto the design – usually in small areas such as a logo or a name. The result is achieved by heating the foil as it is pressed onto the paper. The resulting effects are extremely varied, with finishes in everything from metallic to matt to clear to shimmer. This can really change the overall look and is very useful if you wish to print on to coloured stock.
Embossing: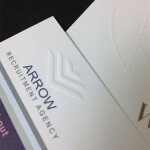 Embossing your design creates a look that is impressive and tactile, and can be used with or without ink. Embossing without the use of coloured inks, is known as 'Blind Embossing'. This technique is particularly applicable to heavy letterhead and business cards, and is often used in combination with foil.
Die-cutting: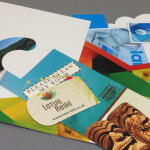 Creating a product in a shape other than a rectangle, is a simple way of making your material stand out. Die-cutting is achieved by using a cutter that is constructed into the desired form and can be used to change the shape of the edge of the paper, or by cutting a pattern into the surface of the page.
Which of these finishes will best enhance your products?