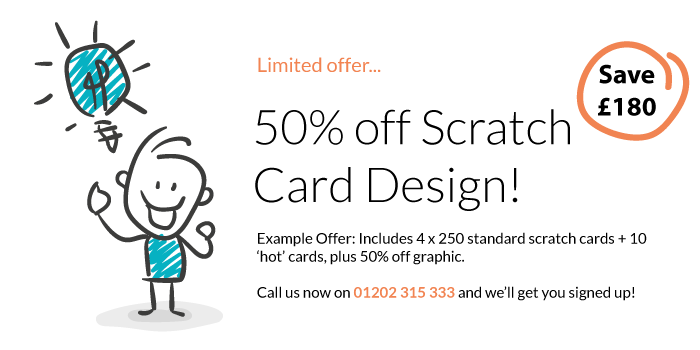 Scratch card marketing can often be overlooked, so we've outlined everything you need to know to create a killer campaign.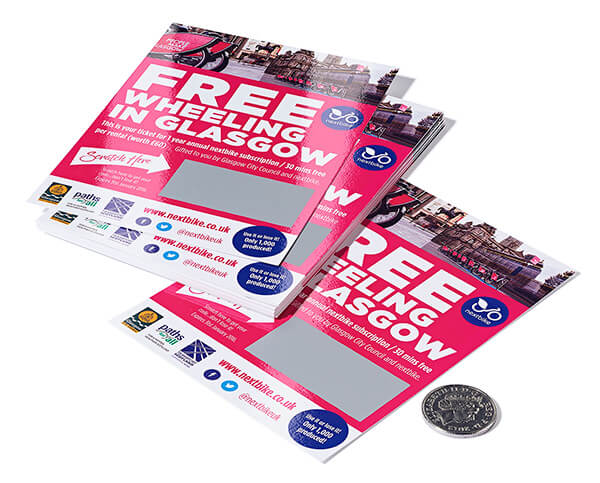 We are big fans of scratch cards as a marketing tool. They help you attract new customers, they engage existing clients, and they create a good image for your company—what's not to like? As with any good tool, people don't always make the most of scratch card marketing. Here's how to ensure your scratch cards win big for you:
Keep it legal
When engaging in scratch card marketing, you need to follow a few simple rules. The U.K. Commission of Advertising Practice gives companies the following advice on scratch card promotions:
Distinguish between gifts and prizes. (If a significant proportion of participants win, it's a gift not a prize. For more information on prize structure and making your customers feel great about your brand, download our guide to promoting your business with scratch card marketing.
Don't exaggerate the customer's chances of winning prizes or suggest that the cards have a higher chance of winning than they do.
If the award is made up of several prizes, don't imply that the prize money will be awarded as a lump sum.
Don't expect winners to incur a cost to claim their prizes (e.g. calling a premium rate service to claim the award).
Guard against printing errors
Ryanair gave away more than it bargained for in 2011, when three passengers on one flight each won a car on a scratch card. To avoid such expensive mistakes, suppliers should have processes in place to ensure that only a limited number of high value prizes can be won. Take out Errors & Omission insurance for further peace of mind.
Be clever with your design
When printing promotional scratch cards, it makes sense to opt for a design that is difficult for the customer to read without scratching. This is where it pays to work with a team with years of experience in delivering successful scratch card marketing campaigns. Here are some secrets of scratch card printing such an expert might tell you:
If the layer of latex that covers the card is not completely opaque someone could shine a light through the card to see what is under the latex without scratching. This risk can be reduced by minimising contrasting colours beneath the panel. We recommend using tints of black: If, for example, the background is 20% black, any graphics should be between 30% and 50% black and the text should be 50% black.
When designing a scratch card, consider the relation of the silver latex to the area that it is covering. If the latex is exactly the same size as the box beneath and there is any movement during the finishing process, your prize may be revealed. We recommend that your panel be a minimum of 2mm larger than the area below.
Using a print company that does not specialise in scratch card printing leaves you vulnerable to production errors. The most common is that the latex is either too soft, revealing the prize before scratching, or too hard, making it very difficult to remove.
A specialist scratch card printing company such as Proactive will use a UV release varnish, so that the scratch panels rub off easily without damaging the print beneath. The latex scratch panels are also cured in a gas drier so that they scratch off perfectly each time.
Download our FREE quick start guide to printing scratch cards to help determine your marketing requirements and which scratch card solution would best suit you.