Printed scratch cards aren't just another promotional item – they can be a powerful marketing tool too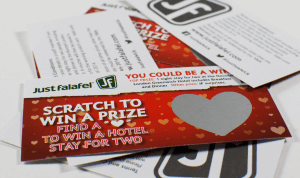 By planning a scratch card promotion around a target audience, you will attract new customers, influence your existing customers to take action, and build word of mouth around your business.
Scratch cards are versatile for almost any budget, printed scratch cards should be in your company's marketing arsenal and here's why…
Attract New Business
Advertising a chance to win prizes from your company is a sure way to increase footfalls at your business or exhibition stand. Individuals who win free products or services from your company and are satisfied with what they receive are very likely to continue with you as regular customers. And the only direct cost for this repeat business is a scratch card. People who are excited about a printed scratch cards promotion are also likely to talk about it to others after they leave, increasing traffic with little effort on your part.
Encourage Existing Business
A campaign using promotional scratch cards can encourage your existing customers base to take a specific action, e.g free trials of a new product, launch of a new website or a simple up-sell or cross-sell from products and services they've purchased before. Repeat purchases can also be encouraged with scratch cards. Use limited-time offers to motivate your customers back to you before their offer expires.
Maintain Excitement
The length of a scratch card campaign can vary. But it's important to maintain excitement about the scratch cards (and your business!) for the duration. Don't let a campaign go stale. It's better to have a short and successful burst of promotion with one game or campaign and refresh your scratch card artwork regularly to maintain interest. Alternatively, you should ensure a good variety of potential prizes to maintain interest from your target audience.
Do it right, first time
Many printers are not equipped to print scratch cards, and if they are, may only be able to offer very limited choices with regard to how your cards are packed. In some instances, you may only need bundles of identical cards which you will mix during distribution. In other cases you'll need something a bit more complex. Consider how and to whom your cards will be distributed before you start – and download this free quick start scratch card guide which is packed with hints and tips on how to get started with your scratch card campaign.