Improving your brand identity with presentation folders
Whether you're mailing your latest brochure or leaving company information behind after a meeting, bespoke presentation folders can make a huge difference to the way your company or services are perceived.
Bespoke presentation folders are a great way to boost your brand identity and awareness. We believe that the quality of your print and the presentation of your marketing materials will make or break your sales pitch. In our opinion bespoke presentation folders are an ideal way to present any collateral they make your business look more organised and professional.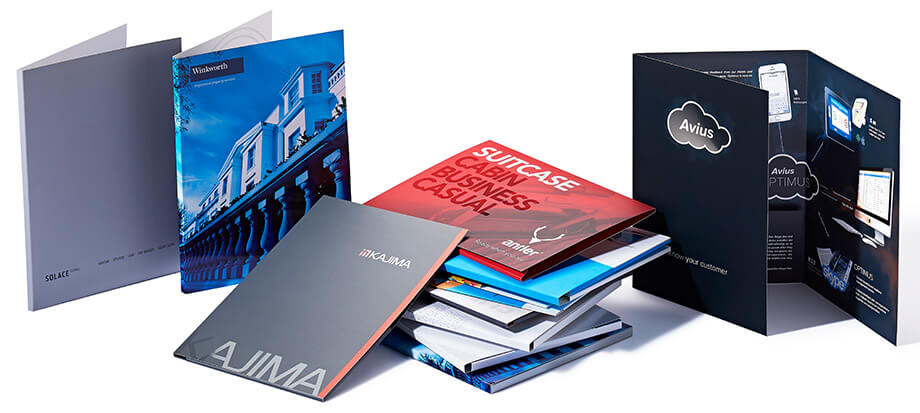 Folder printing offer more flexibility for marketing
Rather than having to keep printing and reprinting your marketing collateral bespoke folder printing offers you flexibility when presenting offers to potential clients or customers. Here's just a few of the ways to show how presentation folders can be used to improve your company's visual identity:
Sales Packs
A insert with up-to-date prices, additional information or terms and conditions can be useful, but may not give the right impression. Presenting buyers packs with brochure prices, time sensitive offers and a specific salesperson details can make a much more considered, professional pitch to a prospect.
Media Kits
Presentation folders may be customised and turned into great media kits and press packs. As well as press releases, brochure, business cards and vouchers a 10mm spined brochure could also hold memory sticks with personalised digital content.
Presentation Handouts
At the end of a meeting leaving your documents loose on the table hoping someone will look over them again and but your product is a great idea. But why not not leave them in a bespoke presentation folder, rather than leaving them to get easily tatty and tea stained. Not only will it look more professional, it will see more value in your proposal and your details are more likely to be kept.
Trade Shows
Printed folders make great handouts during trade shows, customers can use the folders to package your brochures, inserts, leaflets and other material. If you have a number of different products available each folder can be tailored to the individual prospect and their needs. Customers may also use your folders as storage for other leaflets, having your bespoke folder in the arms of half the trade shows guests is bound to increase brand awareness.
Creating a consistent brand image with a bespoke message.
A common issue with marketing materials is that a different tone is used for each audience. For example, a brochure listing prices for wholesale services can't be effectively distributed to public consumers, and vice versa. Presentation folders provide a well-designed, company-branded cover for any materials, offering a consistent brand image but a tailored contents depending on the client or event.
A bespoke design for you brand yet general for it's purpose can also save money as the same folder can be used in a variety of venues, including meetings, trade shows, conferences, proposals, bids, and follow up mail.
Designing the right impression
If you're using presentation folders they are most likely going to be one of the first impressions a company or client get of you, make sure its the right impression.
A good designers will be able to represent your brand, values and identity in a bespoke presentation folder design. You may (almost certainly) be surprised at what you can achieve if you have a realistic budget in place. A good graphic designer will work with you and manage your budget expectations from the outset, so there are no nasty 'invoice' surprises at the end of a project.
Also read why not to design your own folder in MS Publisher (read why not to use MS Publisher)!
When discussing design we also consider the stock. How does the folder feel in your hands? If it feels cheap what kind of first impression will that leave? Don't skimp when it comes to the final finish!
We take pride in the products we produce for our customers, inferior print is not acceptable. To ensure you get the best results when printing presentation folders, take the time to consider not only the the quality of the stock you are using but also its finish. Spot UV is a brilliant way to get creative and give a different texture to your finished product, combined with matt lamination it is a winning combination that will draw a discussion every time.
Representing your Brand
Versatile and timeless presentation folders are a cost effective way to increase your brand awareness, and offer the opportunity to add value to your product or service. The wide range in bespoke brochure designs mean you can tailor the shape and look exactly to your business needs. Companies that are looking to move from off-the-shelf folders to custom folder printing must remember that cheap supplier is often a false economy. When your prospect looks at your folder, what do they see?
We believe in providing the best quality product possible within any company budget. Our various options will make your company's presentation folders stand out. For more information or a no obligation consultation call us on.