New businesses will often see the printing of their business cards as an essential step in their development, but will often fail to recognise it as a marketing opportunity. Why? A business card contains all vital details of a company or an individual worker and is an easy reference for someone to establish contact at any time, which is not always guaranteed by information displayed digitally.
Business cards were primarily designed to slip into wallets or purses for the receiver to refer back to at any time and establish contact. Even if business is not generated directly, business cards are small enough to pass to a friend or relative who might require the service of the company.
Quality of Paper & Design
The type of paper the business cards are printed on will send out an immediate message to the receiver. If your card is printed on a thick, sturdy paper it will create the impression of your company being reliable and strong. However, if you print on flimsy, cheaper paper it will give customers the opposite impression. Similarly, use colour to make the cards nice to look at, otherwise who will bother? It is important to stick to a scheme of no more than 3 or 4 colours so that it does not distract from the information which should remain clear.
Notable features
So many businesses make the mistake of using the business card solely for their contact details, but why not add some value to the card? Incorporate something into the design that will make your business stand out and make the receiver want to keep the card- and possibly pass on or refer to in the future. Examples of this could be a QR code linking to a coupon or special offer, a map, calendar, discount or anything linked to your industry. You could add finishes to the card like Spot UV or foiling that will make the card interesting and worth holding on to (Possibly to show a friend or relative who might even be looking to use that type of business)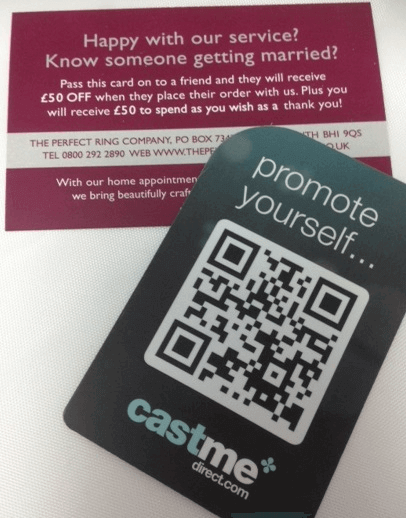 The 1 minute rule
Don't let your business cards sit in a drawer in the office. If you've paid decent money for the quality and finish of them, why shouldn't you put them to good use? The one minute rule suggests that within one minute of speaking to someone about your work or business, they should have been handed a business card, be it at a conversation at a corporate meeting or at the bus stop. This will also make more of an impact at a meeting than unobtrusively passing them around at the end of the session, as well as possibly becoming a talking point because you will have made them so unique!
To get a quote for your next batch of distinctive business cards or to see some samples of our work, just get in touch below!