Effective Brochure Design: Everything you need to know!
Online marketing isn't everything, bring some life to your offline business with effective brochure design.
At Proactive we understand how appealing the world of digital marketing is, it's cheap, cheerful, often editable, and quick to implement. However, online media is saturated with advertising messages and studies have infact shown that after the leading social media platforms 'The fifth-most popular sharing method is offline (print) shares.' Meaning that adding an effective brochure design to your marketing plan could do wonders for your business.
How brochures are so effective at marketing
Soft media (social media) can be instantly forgettable. A great company brochure can help to build awareness and a solid level of trust around your company, as well as help potential customers to understand your business offering.
An effective brochure design will have a higher perceived value than anything your potential customer sees on their screen. Even when information is presented online that can be downloaded and printed off, many people may not bother. Instead give your customers a brochure they can have delivered to them at home and digest at their leisure – this is a great way to capture their details too and gives you a great reason to follow-up when they've received your brochure.
Brochures are a useful 'leave behind' marketing tool for business meetings or trade shows. With the world becoming increasingly digital, sometimes the most impressive lasting impression is to give out something physical that will promote a positive response from your recipients.
Don't miss out on an integral marketing tool for your business. Receive a quote from us to design and print your brochure!
Incredible versatility with your design
Your company brochure can be one of the most versatile tools you have at your disposal. Not only can you use your brochures to inform prospective customers or business partners of your range of products and services, but you can also include your company history too. Having a good back story is always very engaging and will help people to connect to you on a human level that you often cannot create through company websites.
A effective brochure design doesn't have to conform to any set design features, it doesn't have to have 50 pages or a swanky hard back cover. You can choose to design your brochure as a stand-alone marketing kit as well as in combination with other promotional giveaways.
Unlike many other forms of marketing a brochure will offer you as much or as little space for information about your company and products or services as you wish. You can choose from a whole range of different sizes, pages, folds or layouts to maximise your impact. Why not experiment with a tri-fold design, mixed media page inserts, a die-cut or shaped design?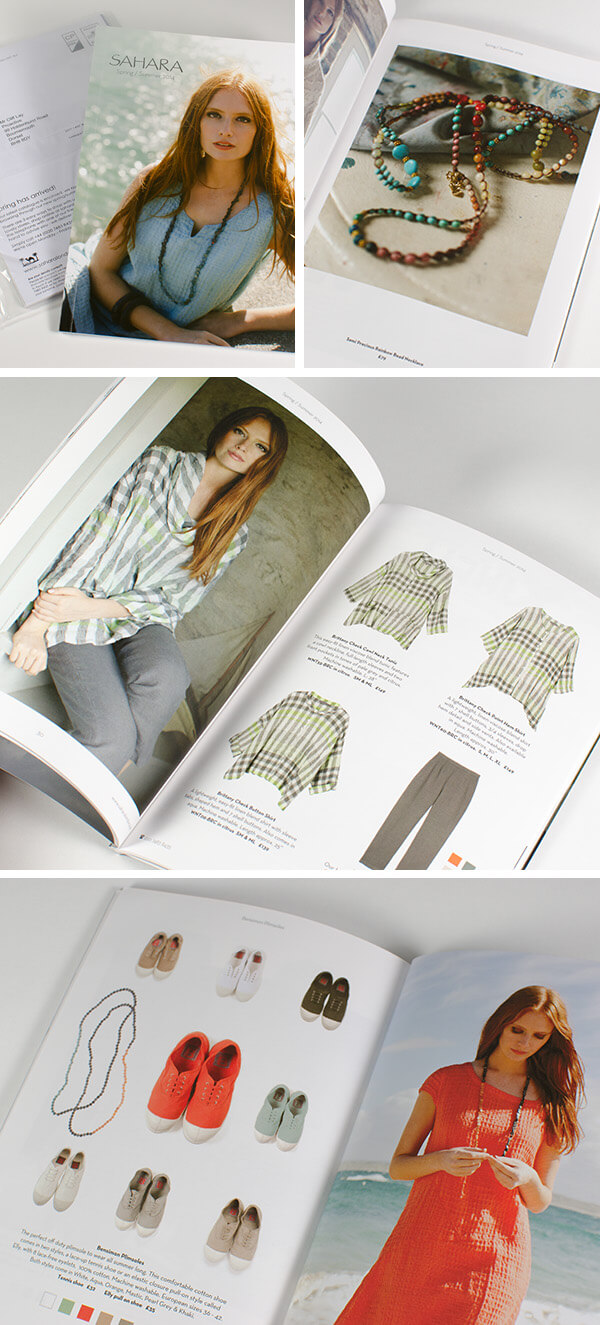 Your design can include visually rich images, graphs, charts and infographics. This makes your layout engaging and easy on the eye, it also looks more interesting than simple blocks of text. Alternatively you can choose to add some textural interest with lamination, debossing, foiling or spot UV. This will add another level of appeal that will help you stand above your competitors.
What to include in your brochure
Your brochure can be a very effective piece of marketing material that has the flexibility to deliver far more than a glossy cover picture.
Have you ever heard of AIDA? This is an acronym for Attention, Interest, Desire, and Action. For a truly effective brochure design include all these elements then deliver your call to action.
Make sure you include information that your customer will find useful.
• Ask yourself why would they want to buy your product or service?
• What problems do your customers have that you can solve?
• How can you help your customer to achieve something they want or need?
These are the answers you need to put into your brochure.
Rather than the standard catalogue format, brochures can be used as a teaser for the launch of a new product. You can tell a story across your pages that ends in a compelling call to action. Whatever format you decide, it is important to design it around a CTA. Tell the reader what to do. Once they have finished reading your brochure, try including a voucher or discount code with a time-sensitive submission date. This will prompt an immediate response from your readers and is an effective method of monitoring your return on investment through the use of unique trackable voucher codes.
Cost-effective marketing
Basic brochure design and printing is a very cost-effective way of business marketing for all companies and adds great value for small businesses on tight budgets. Of course, a brochure can be very expensive to design and produce, but your customers may require this level of quality to help reinforce the ability of your product to meet their high expectations, so don't scrimp on quality as it could have a negative effect on your sales and brand.
You will get far better value for money from your brochures than you will from more expensive television, radio or magazine ads. Unlike these other forms of marketing, your brochure will gain 100% of the reader's attention. It is your own space to get across the information you want to deliver. Potential customers have the benefit of being able to take away your brochure to read at a time that suits them when they are not being distracted by other things and will remain a visible reminder on their desk. You cannot hand over a website for them to take away with them.
Brochure Distribution
When designing your brochure, think about how you will distribute it. Will this determine the type of information or CTA you may need to include?
There are various options available to you in terms of distribution, the effectiveness of these will vary depending on your target market. You may want to display them in your reception, or at another venue or waiting room that has a high footfall of your prospective customers. Alternatively you may think about handing them out at trade shows or other events.
You can include them with your customer order delivery. This is a great way for existing customers to find out more about your company, be directed to your website, social media or physical store to discover what else they may find useful from you. Combining your brochure with other tangible items will create more interest.
Lastly, a great form of brochure distribution to attract new customers is direct mail. Recent studies have shown huge benefits in direct marketing, as many as 37% of young families agree relevant mail can change their view of a company.
Conclusion
Brochures can often be overlooked in marketing campaigns, however their tangible qualities, more trusted and personal connection makes them an incredibly effective tool across more audiences.
If you're thinking of promoting your products or services with a new bespoke designed brochure, get in touch and a range a FREE consultation or samples pack. Call us on 0800 412 5333 or email contact@proactive.marketing.
We've done the research so you don't have to:
Why are printed brochures considered an effective marketing stratergy? – Quora
The Importance of Brochure Printing As A Marketing Tool- Studio One