Innovative wheel chart designed and printed for vet training business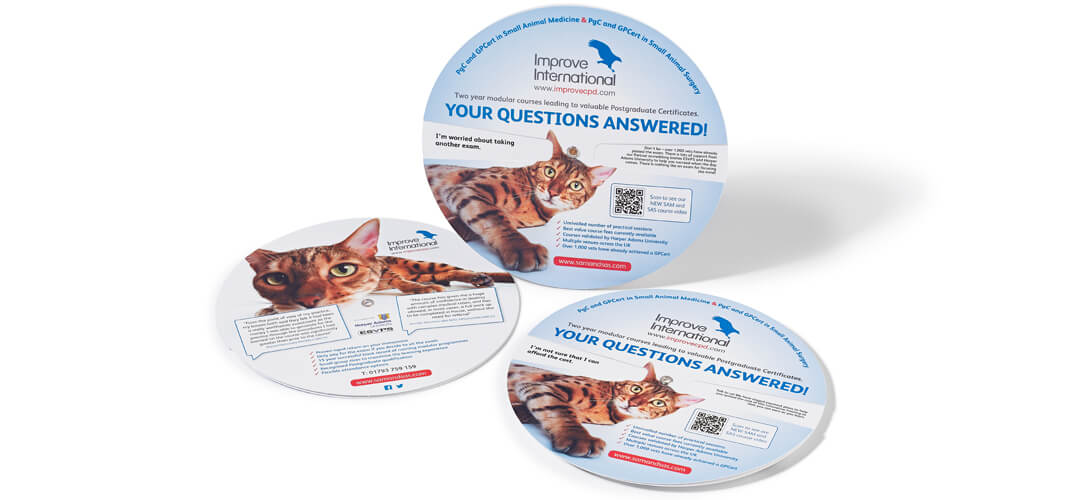 Project detail
Produce a unique 'wheel chart' marketing concept for a client who provides CPD courses for vets. Designed, printed and direct-mailed to their database of veterinary clients.
Specification
CMYK printed throughout the wheel chart
2 x 155mm wheel chart discs (350gsm silk)
Nickel eyelet to allow discs to rotate
Poly wrapped with carrier sheet and mailed to client database
The Solution
Client had a series of frequently asked questions/reservations about the service they offer. The wheel chart 'spinner' was utilised to provide a simple and engaging way of answering these queries.
Project was taken from concept, through design, production and mailing and delivered to the clients' target audience in under 4 weeks.
Excellent company that really go out of their way to help and find solutions – even when you didn't realise you needed one! Great for total solutions and very quick to understand my needs and make sure each service provided suited the market they were aimed at down to the smallest detail. Brilliant value and always looking for ways to make the budget go further whilst still bringing maximum return.

Improve International
Want your own printed wheel chart ? Call 0800 412 5333
Marketing and design articles to help businesses (and profits) grow!
Don't worry we hate spam too. We totally respect your privacy. You can opt-out and choose what emails you receive at any time!