Sunny? Great! But that's for now, Christmas is around the corner so put down the shades and get your seasonal printing skates on!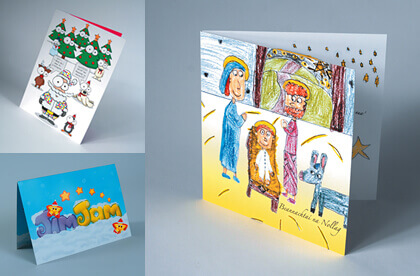 Seasonal printing is a must have for your Christmas marketing plan. With the advances of the digital age it is easy to be swept up into thinking we only communicate with one another in spaces like this – a blog, or a post, not forgetting our old friend – email. However, when it comes to Christmas there's nothing quite like receiving an actual 'real' Christmas card.
Maybe because it shows a bit more effort, it comes across as more heart-felt, ask anyone what they'd prefer, an e-card or a posted Christmas card and I bet the e-card doesn't come out on top!
In fact at this time every year, Royal Mail increases its staff by around 14% – this year they are hiring an extra 18,000 people* to help all that Christmas post get on the right path. It really is the time of year when people want to show they are thinking of you, and as a business it is crucial you do the same.
You need to think about Seasonal printing as early as possible in the year
At Proactive, we encourage our clients to start thinking about Christmas early, and although the weather recently has been all sunshine, there really isn't that long to plan for your Christmas marketing. In the office, we are already edging to decorate and get Mariah Carey playing on the speakers**, so we thought we'd give you a bit of a helping hand to get into the Christmas spirit too…therefore this month our most popular Christmas product, silk Christmas cards, are half price as our offer of the month (Unfortunately, this offer has expired) – see, now you're feeling that festive spirit, we all love a seasonal bargain!
Whether you are looking to design your cards from scratch, want us to do that for you or you just want to pick from our popular designs that's fine we'll do everything we can to help!
So if that's whetted your appetite, check out our Christmas printing website dedicated to the all the festive products we offer. You'll find a range of cards, calendars, and even scratch card advent calendars! If Royal Mail has taught you nothing else, take home the thought that everyone else will be sending those Christmas cards and making the most of her majesty's service in December, including your competitors no doubt!
So, don't delay, pretend there's snow outside and you're hot from a crackling fire rather than the Autumn heat wave, and have a browse through some ideas that'll show your clients/your customers/your valued partners in business that your company values them, and cares enough to send them a little Christmas cheer. *Source: BBC NEWS, 19 September 2011. **Proactive's Christmas top tip to get you in the mood for thinking about all things festive…Mariah Carey