Design a scratch card campaign and start winning with marketing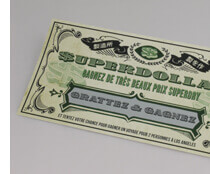 As you may have already discovered, printing scratch cards can be a bit more complicated than your everyday marketing challenge. Creating a creative scratch card campaign will be the key to success.
For starters, you'll have more to think about in advance in order to be able to confirm costs. This quick list should set you on the right path and help you get up to speed in the fastest possible time. It might also be the fastest way to help you decide that printing scratch cards just isn't right for you – but if that's the case at least you can make that decision quickly and move on with your next project.
5 Scratch card campaign tips…
These tips can be read in conjunction with our Quick Start Guide to Printing Scratch Cards… read both and in 10 minutes' time you'll know more than most people about the subject and be much better equipped to ensure you get the results you're after.
Generally, scratch cards are printed in quantities of 5,000 and upwards. If you want fewer scratch cards than that, the price doesn't come down – the unit cost goes up. The reason for this is that the bulk of the cost in producing low quantities (and in scratch card terms, 5,000 is a low quantity) is in the setting up of the job. There's the same amount of work involved in producing 500 scratch cards as there is in producing 5,000. I'll warn you in advance – if you've got your heart set on printing 100 scratch cards you're going to need deep pockets.
The complexity of your scratch card 'game' will affect the cost. Most of the corporate promotional campaigns we see are what's know as instant win scratch cards, ie there's no skill involved – no matching of symbols – just scratch the panel and reveal a message which tells you whether you've won, or not. Before you start working on costs, you'll need to know roughly (a) how many different prize categories you wish to offer and (b) how many of each prize are available to win.
Prepare to be flexible. Once you've established your ideal prize structure (which for larger campaigns is often pyramid shaped, eg one large prize, ten tier two prizes, a hundred tier three prizes etc). As a broad rule of thumb, the flatter your pyramid is, the easier your job will be to produce and the lower the cost will be.
Think about distribution. Let's say you have a handful of 'big' prizes and three or four categories of low / no value prizes. How do you want those to be mixed together? Do you want the large prize-winning tickets inserted at random into the others? Do you want them to be kept separately? If your scratch cards are going to be distributed across several stores or events, perhaps you need your scratch cards packed into kits with the same number of high / low value prizes in each kit?
Allow time for production. The more complicated your scratch card campaign, the more time you should allow. A very basic campaign can be available in 7 working days (5 at a push, although this is likely to cost slightly more), a more complicated campaign might take 10-15 working days. And please remember that if you're considering ordering hundreds of thousands of scratch cards (or even millions), your campaign will be produced on machines that are also producing similar sized campaigns for other clients – so your job will need to fit in with the existing workload. The more time you can give your supplier, the better they will be able to meet your requirements. Plan ahead, and save yourself a headache.
You may think everything written above is common sense, and it is. But these are the things that trip people up every day.
Forewarned is forearmed, but if you have queries which aren't covered here, get in touch or ask for a quote and I'll do everything I can to help. If you're in the early stages of planning your scratch card campaign, download our Quick Start Guide.