If you're in the process of choosing graphic designers for your next design project you should consider the following tips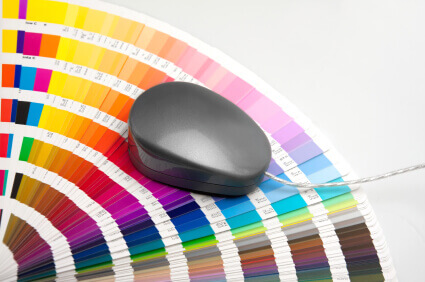 Every business has its own areas of expertise. Even businesses that have an internal designer frequently find it cost-effective to outsource their creative work to a business whose areas of expertise include graphic design.
As budgets continue to be tight, the prospect of initiating a new business relationship can be daunting, but liaising with a qualified graphic designer on your company's design projects can ensure the success of your marketing objectives. With this in mind, we've put together a few tips to help you choose a designer for your needs.
Review a designers' portfolio
A wide-ranging portfolio, from one page marketing pieces to extended projects, shows that a graphic designer has experience, skill, and flexibility.
A graphic designer should be able to explain the positive impacts that their completed design projects have had on their clients' business.
Review the portfolios of several designers to find the one that best fits your vision.
Choosing graphic designers with business experience
It's just as important for a designer to understand business as it is for them to understand design. Would it still be a successful project if the new logo that you contracted for is gorgeous but came in far over budget and three weeks late? A graphic designer should always have the end in mind: aware of your needs, budget, and deadlines.
Marketing is the foundation of graphic design
Graphic design is more than attractive colour schemes. A skilled graphic designer will only arrive at a design after considering the marketing goals of a piece, not simply pull together a pleasant looking concept.
Your graphic designer should have an understanding of marketing principles from content to layout, and how these will affect your company's message.
Professional communication is a must
The graphic designer that you choose should be able to demonstrate good communication skills from start to finish, explaining how your project will be completed, where key deadlines will be met, and how they will stay in contact, guiding you throughout the design process.
Ensure your designers can spell (or at least use a spell check)
Graphic designers can quickly turn the visions in their heads into designs on the screen, but that can lead to basic spelling and grammar issues in proofs. Make sure your designers are using a spell check and are proof reading your text so you avoid expensive reprints. Note: It is also the clients responsibility to proof read the artwork they are sent. You must be prepared to check your designers work before signing off final proofs.
A friendly personality ensures a smooth project experience
When you're choosing graphic designers to shortlist, make sure you are going to get on with them. It's a simple note, but so important. If you get a good feeling about all the things above, you'll most likely have a better project experience.